EBRA builds on 5 work packages. WP1 and WP5 cover transverse activities, namely: project management (WP1) and dissemination, outreach and patient involvement (WP5). The other work packages will focus on mapping the existing European brain research landscape (WP2) which will then be used as a basis for the development of a shared European brain research agenda (SEBRA; WP3). In WP4, the various stakeholders and major brain research initiatives, at European level and beyond, will come together and create the conditions for real and effective cross fertilisation, dialogue, building consensus.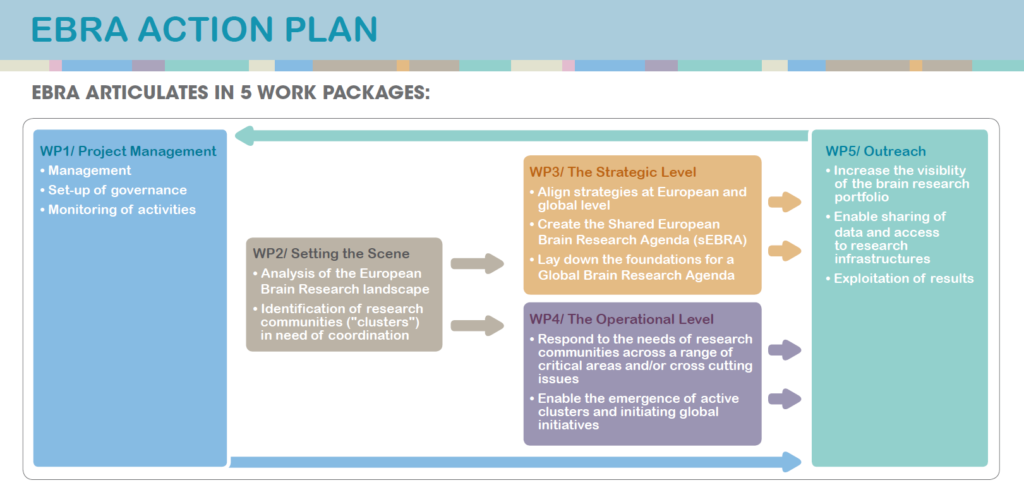 WP2: Analyse research portfolio and identify projects to call together in active clusters
The aim of the mapping exercise is to provide an overview of the scope and scale of the European brain research funded by in the EU framework programme (FP7 and H2020), the funding initiatives of JPND and NEURON, as well as HBP. The brain research landscape will allow to identify gaps and opportunities in European Brain Research and to clarify research objectives and priorities. The results of the mapping exercise will underpin the development of a Shared European Brain Research Agenda.
Several calls for clusters will be launched during the project. A cluster is understood as a research community that can be directed towards basic research, clinical research and/or methodological approaches under a common topic and disease area within brain research. Clusters can be existing or emerging. The aim of a cluster is to consolidate or expand further the research community, engage with policy makers and other relevant stakeholders, build consensus on various issues (research priorities, research roadmap, data sharing, etc.) and/or promote links with existing research infrastructures. EBRA supports clusters in their workshops/roundtables/conferences/ symposia agenda through consultation and communication/dissemination of the cluster's activities.
WP3: Shared European Brain Research Agenda (SEBRA) and Global Initiatives
The SEBRA focuses on research opportunities and research and innovation gaps to be addressed in the field, priorities for action in the short and long term and research areas that would benefit most from cross – initiatives cooperation. The SEBRA will also integrate pre-existing documents, such as the Strategic Research Agenda of the different initiatives participating in EBRA (as for instance the JPND SRIA), and the EBC Consensus Statement. An expert workshop will be organised to discuss the gaps and priorities in brain research. An online consultation will then be set up to gather the perspectives of multiple brain research stakeholders (basic and clinical researchers, healthcare professionals, industry, and patients and carers). The SEBRA will be used to provide recommendations on future areas for excellent, innovative and translational research comprising those for maximized cooperation, reduced overlap, and fragmentation.
WP4: Accelerate excellence, innovation and translation, and foster exchange by promoting Open Science
The selected clusters will organise activities with the aim to promote external collaborations, foster the exploitation of results, address data sharing issues and foster access to research infrastructures. To strengthen the links with existing infrastructure, EBRA will for example implement a match-making strategy with the CORBEL project and catalogue of ESFRI services.